The folks @
Total Beauty
put together a fun series of photos with 5 celebrities taking their looks from very formal and styled to very relaxed and soft. I thought this was very relevant to what we have seen a lot lately, but also this isn't only relevant, it's true. Don't these girls look great!? Sometimes it's nice to let your hair down.
Here are my thoughts and some tips of how to achieve these styles.
My Thoughts: This I thought was interesting. Reason why? Well, christina always look amazing with that elegance to her style and the look on the left is very elegant with a 40's inspired style. However, I would have to agree with this article she looks amazing with her hair a little loose. Maybe we are so used to seeing her with that Hollywood glam it's nice to see her with something a little more soft. So I guess we can say they both look great but change is always great! So I love it.
Get The Look: Using a smoothing based product, like paul mitchell quick slip, mixed with a light texture based product, like pureology power dressing. Apply throughly from roots to ends. Dry the hair with a flat brush constantly pushing the hair against the head going the opposite way hair falls. When the hair is 85% dry us a large sized round brush and finish drying to maximize volume.
Drew Barrymore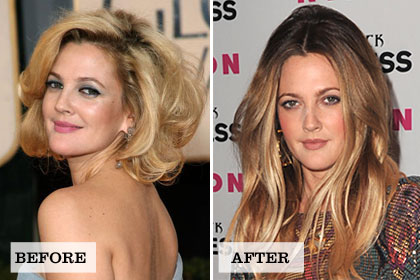 My Thoughts: Very similar to the above look in the before. However, the biggest difference is I am not so much a fan of this before look on Drew. It is all about letting your hair down. Using extensions with a slight wave and a little more of a rooty look in the color. Drew is able to express her 70's style and it looks Hot.
Get The Look: When the hair is dry. Take a very large curling iron, placing the barrel down, wrap the hair around the barrel around the iron without closing the clamp on the iron. Also make sure when wrapping the hair around the iron you leave the ends out.
Angelina Jolie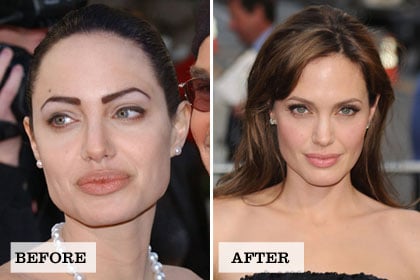 My Thoughts: Angelina in all honesty does not look great with her hair tightly back. When really getting a chance to look at her facial shape, it is clear that she looks most ideal with a little softer look around her face, giving her a more natural oval silhouette.
Get The Look: Using a root lifting product, like Redken Guts, apply product liberally at the root area. Blow dry hair 90% dry with your hands constantly lifting and pulling at the root and smoothing by creating tension with your hand. Take an extremely large round brush and smooth and lift to finish it off.
Avril Lavigne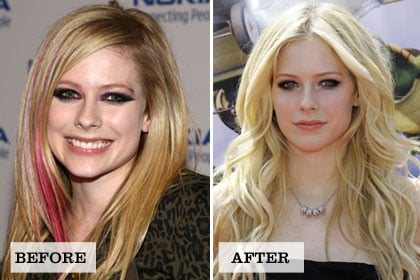 My Thoughts: It was about time little miss Avril made a change. The look on the right gives her a fun, yet a little more mature look of elegance. What's great about a look like this is that its reversible. There is no reason for Avril to not stay true to who she is, so when she is feeling like she wants a Skater Boy, she can go right back to it.
Get The Look: When the hair is dry. Using a Medium Large curling iron roll all of the sections going diagonal back throughout the sides and back. With a horse shoe section on top of the head, roll all of the sections going back with a large curling iron, making sure not to leave any partings.
Denise Richards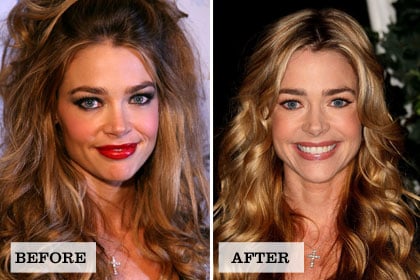 My Thoughts: If this shot was done for Halloween then I get it, but unfortunately it was not. Denise looks great in this after. It gives her a little volume but not an overwhelming amount like we are seeing in the before. The 80's are fun when it's modern, but if we are stuck in the 80's well than its just bad hair.
Get the look: Take a horse section from the arch of the brow to the arch of the brow. Using the same technique as Avril's, using a medium sized curling iron, roll the hair diagnol back in very small sections. Release the horse shoe section and tease at the crown. If necessary lightly create texture towards the ends of the hair using a very large iron. Spray with a firm hair spray.